---
Using the Blue-M Oven
---
The Blue-M oven is located in laboratory 109A of the John Mitchell Center. It has a temperature range of 32 C to 260 C (500 F) and is equipped with over temperature protection. It is used primarilly to process plastisol resins, but can be used for any process using temperatures within its range.

This document describes the operation of the oven and safety practices.
---
Controls:
All controls (except the main power box) needed to operate the oven are located on the control panel on the lower front of the oven. The main power box is located on the left side of the oven.
The controls consist of a power meter, a pilot light indicating when the unit is on, an on/off switch, a temperature meter, a run hours meter, a reset switch, and two dials to set the desired and over run temperatures.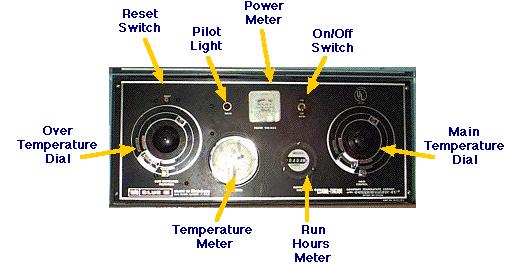 Operation:
1. Turn on the "On/Off" switch.
2. Set the Over Temperature Protection control approximately 10 degrees C (18 F) above the desired operating temperature and press the "reset" button.
3. The red pilot light should light.
4. Record the time on the run hours meter if the processing time is to be monitored.
5. Set the required processing temperature on the main control. The oven should now be operating.
6. Observe the temperature meter to check the temperature.
7. To stop the oven, turn off the main switch.
Safety:
1. Ask for assistance if you are not sure how to operate the oven.
2. Do not process materials in the oven if you do not know how they will react.
3. Have a fire extinguisher handy when using the oven.
4. Turn on the overhead vent when operating the oven.
5. Wear safety glasses when using the oven.
6. Wear thermal gloves or use handling tools when removing hot materials.
7. Do not leave the oven unattended when in use.
---

Prepared by John Zaner, 1/5/98